What are LTL Services?
Less than Truckload (LTL) Services provide transportation of shipments typically falling between 50 and 10,000 pounds. These shipments are commingled to ensure that these small-sized shipments do not solely bear the full cost of transportation. With over 100 years of experience with such operations, Midwest Motor Express is well-suited to provide superior service for your LTL shipping needs.
Facility Locations
Midwest Motor Express, directly and in concert with other KNX LTL brands, operates SC# strategically located facilities covering ST# states. Location-specific information, including transit time and local coverage maps, may be accessed below.
Additional Services
Midwest Motor Express offers a wide variety of additional services. Typically, these services include other charges and specific rules. Below are listed some of the more common services used by our customers.
Guaranteed Services (see complete terms here)
Restricted Access Services
Full Value Coverage
Inside Pickup or Delivery Services
Lift Gate at Pickup or Delivery Services
Marking and Tagging
Notification Before Delivery
Protect From Freezing
Hazardous Materials Shipping
For more information and a complete list of rates and rules surrounding these and other additional services, please review our current LTL Freight Services 190 Rules Tariff and our Quick Reference Guide to Accessorial Rates.
Data Exchange
Modern shipping is a highly integrated process. The rapid exchange of large volumes of information between various systems is critical. As an extended segment of your supply chain, we understand that this information requirement also extends to us. Accordingly, we provide many options to ensure information is efficiently managed.

Website "Workspace"
Workspace, as the name infers, is where active shippers and other customers complete various shipping-related tasks. Workspace is designed to make these daily tasks as simple and easy to use as possible. There are too many functions to list here, so please take a moment and visit Workspace for a first-hand feel of just how simple and helpful it can be.
With Midwest Motor Express's Web Services, you have the flexibility to choose the development platform or programming model that best suits your needs. You can easily access the following information via Midwest Motor Express's Web Services:
Rate Estimate
Imaging
Tracking and Tracing

Transit Time
Pickup Request
Electronic Data Interchange (EDI)
Midwest Motor Express can transmit EDI documents directly to customers via FTP, SFTP, and AS2 or through an approved Value Added Network (VAN). We can also send and pull documents from the customer's server. Although many EDI exchanges are custom setup, the common form types provided include:
204 – Electronic Load Tender
210 – Freight Details and Invoice
214 – Shipment Status Message
820 – Payment Order/Remittance Advice
997 – Functional Acknowledgment
Document Downloads
Midwest Motor Express provides several PDF and HTML forms for you to use directly, along with various certifications for your reference. For a complete list of available documents, visit the document download page.
Safety
Safety Rating: SATISFACTORY
It is the policy of Midwest Motor Express to maintain a safe work environment throughout our system. The primary goal of our program is to prevent accidents, incidents, illnesses, and injuries and to fulfill our moral obligation to protect the general public. By doing so, the employees of the company and the general public will be best served.
Unsafe acts or working conditions create unnecessary hazards to the health and wellbeing of our people, our customers, and to the good name of the company. Midwest Motor Express therefore commits itself and its resources to these ends:
Provide safe and healthful working conditions.
Maintain all company equipment and facilities in good and safe order.
Correct any and all conditions that could lead to an accident or injury.
Provide ongoing safety training to all employees.
Comply with all federal, state, and local laws or regulations related to safety.
To these ends, I commit all of the resources of Midwest Motor Express, including the best efforts of all our family members.
Reid Dove
Chief Executive Officer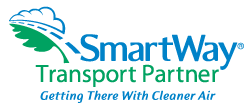 Midwest Motor Express is committed to supporting environmentally sound business practices. Whether through a formalized program such as SmartWay® or by simply reducing miles driven through advanced operations research applications, Midwest Motor Express strives to achieve a minimal impact footprint on our environment. Some of our efforts that favorably impact the environment include:
More fuel-efficient tractors with automatic transmissions improve RPM control during shifting, leading to improved MPG.
Side skirts on trailers improve the overall drag coefficient, improving MPG.
Improved tire compositions and setups lead to reduced rolling resistance and improved MPG.
LTL system flow improvements enhance loaded fill rates, reducing the miles per shipment required.
Advanced data center designs reduce HVAC demands and overall utility consumption.
Recycle used oil, used oil filters, antifreeze, batteries, and scrap steel.
Have shop rags laundered for reuse.
Retread tires to extend their useful life and reduce scrap tire generation.
Switch to metal halide yard and wall pack lights with more efficient LED lighting as a replacement becomes necessary.
View the Midwest Motor Express SmartWay certificate.
Excluded Commodities
Midwest Motor Express provides transportation services for most all commodities except for:
1.1, 1.2, 1.3, and 1.5 Explosives
Nitrocellulose
Carbon Black
2.3 Poison Gas Zone A
2.3 Poison Gas Zone B in bulk packaging
6.1 Poison Inhalation Hazard Zone A
Radioactive Yellow III materials
Shipments requiring a Waste Manifest
Original works of art
Taxidermy
Currency
Corpses
Live animals
For more information regarding Hazardous Materials, see: Hazardous Materials Lookup
Outstanding Service Awards
Pricing Options
Service Areas & Direct Pricing: Midwest Motor Express offers single-contact, protected pricing agreements across our Direct Service areas. Through strategic carrier affiliations (Affiliate Carrier Service), Midwest Motor Express provides full U.S. coverage at market competitive prices.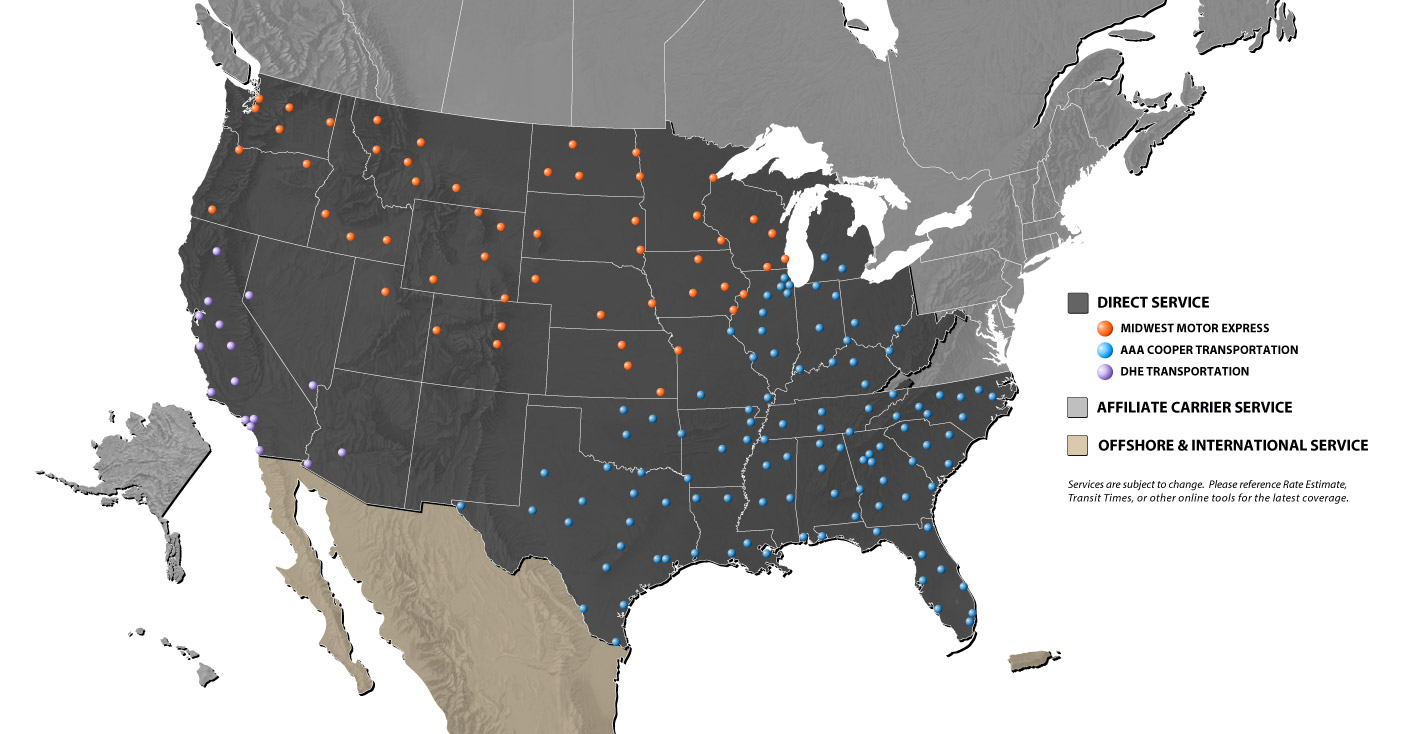 Tariffs: Midwest Motor Express offers several pricing options. Although we are capable of using nearly any publicly published tariff, we prefer to use our privately published tariff, "MIDW 555". This tariff allows us to offer the best overall price and service structure possible.
Terms: Most applicable shipping agreement terms can be found in our LTL Freight Services 190 Rules Tariff. This document outlines the rules surrounding our transportation practices and the applicable rates for various accessorial items.
Establish Credit: Please submit a credit application.
Discounts: Discount percentages off the base tariff rates are common in LTL shipping as we also provide market competitive rates based on this practice. Typically these discount levels vary by shipping lane.
Submitting Sample Data: We can simulate shipping patterns and price models, but you will receive a more accurate price by providing a sample of your shipping history.
FAQ
Here are a few of the common questions people ask...but please feel free to call us anyway!
About Accounts and Account Setup
How can I establish a relationship with Midwest Motor Express?
The easiest way to establish a relationship is by contacting your local service center. Please enter your location information in the Facility Locations section for contact information.
How do I get in touch with the service center that services my address?
Please enter your location information in the Facility Locations section for contact information.
I have an account. How can I associate it with my web ID?
To associate an account, you must go to Manage Associations. Once there, click on Associate/Dissociate Accounts, type in the account number you wish to associate with, and click Associate. The request will then be forwarded to our corporate office for review.
How do I establish credit with Midwest Motor Express?
To establish credit, you may contact your local service center manager (Facility Locations) or fill out an online credit application located in our Pricing Options section.
About Rates
Freight class is established by the National Motor Freight Classification (NMFC) and is based on four attributes: density, stowability, handling, and liability. There are 18 different classes of freight as outlined by the NMFC.
Can I estimate my shipment weight?
No. We need the exact weight of a shipment so planning can be done for operational efficiency.
What is the density of my shipment?
Density is described in pounds per cubic foot (PCF). View our Density Calculator page to learn more.
A rate estimate may be obtained in two ways. You may register and log into our website to receive a quote on the Rate Estimate page or call Customer Service at (888) 715-7690.
Can my actual freight charges differ from my rate estimate?
Yes. At the time of the estimate, we make every effort to give you the exact amount you will be billed. If the information provided at the time of the estimate differs from the shipment characteristics, the charges may also differ. In addition, the fuel surcharge may differ depending on the day of the estimate versus the day of the shipment.
What does cubic capacity mean?
Cubic capacity refers to the amount of space a shipment occupies. As defined in the LTL Freight Services 190 Rules Tariff, if a shipment exceeds 750 cubic feet and has an average density of less than 6 pounds per cubic foot (PCF), or, if a shipment occupies 12 linear feet or more of trailer space and has an average density of less than 6 pounds per cubic foot (PCF), a shipment could qualify for a cubic capacity minimum charge.
About Shipping
To schedule a pickup, you may contact your local Service Center, visit the Pickup Request page, or Contact Us at our corporate office.
What type of labeling does my shipment need to have?
Shipping labels must be placed on every piece of your shipment. The shipper and consignee information must match the bill of lading information exactly, and your labels must be legible and complete. Ideally, labels should be on each side of each piece. In addition, DOT hazardous material labels are required when shipping hazardous materials as specified by the DOT.
You may trace a shipment using the Shipment Tracking tile on the Workspace page. If you need a more detailed tracking method, registered users have access to the Tracking page.
Are there any items Midwest Motor Express will not haul?
We make every effort to meet the needs of all customers. Unfortunately, there are some items we do not transport. For a complete list, please visit our Excluded Commodities list.
Does Midwest Motor Express offer special handling?
Yes. We offer multiple special handling options including, but not limited to, Shipper Load-Consignee Load, and Shipper Load and Count. For more details or additional handling options, please contact your local Service Center.
What is Midwest Motor Express's coverage area?
Midwest Motor Express offers direct coverage throughout the Midwest, Southeast, and select points in the Northwest. For a complete coverage map, please refer to our Facility Locations.